Do you know, Class 7 Math Assignment Answer 2021 for 1st Week Full Solution now available on our website? If you guys looking for a Class 7 Math Assignment Answer or Solution for the 1st Week, so this is the perfect place for you.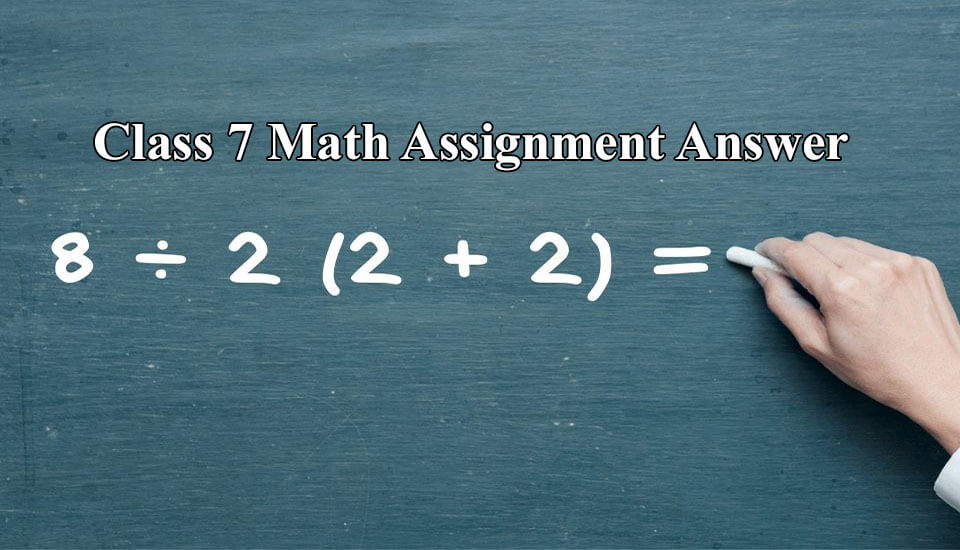 Are you looking for a Class 7 Math Assignment Answer 2021 for the 1st Week? so this article will help you to get the solution without any problem. Here you will get Class 7 Math Assignment Solution 2021 for All Board.
Class 7 Math Assignment Question
We know that the Class 7 Final Exam is the most important exam in the Secondary Education System. Every year Exam was held on the 1st Week of November. However, do you feel Math is a hard subject for you? If you do so, so don't worry! Because most of the students think so.
But don't worry! We have a few expert members who already solved the assignment. And every student can easily collect the assignment from Allresultnet. After that, they need to write their assignment like our solution. So you may download Class 7 Assignment 2021 PDF from here. Before that, you may also check the assignment question from below.
পঞ্চম অধ্যায়: বীজগণিতীয় সূত্রাবলি ও প্রয়োগ
সপ্তম অধ্যায়: সরল সমীকরণ
নবম অধ্যায়: ত্রিভুজ একাদশ অধ্যায়: তথ্য ও উপাত্ত
প্রশ্ন: ০১
তােমার গণিত বইয়ের দৈর্ঘ্যের এক চতুর্থাংশ, প্রস্থের এক তৃতীয়াংশ এবং তােমার কলমের দৈর্ঘ্যের অর্ধাংশ| পরিমাপ করে, প্রাপ্ত তথ্যগুলো ব্যবহার করে নিচের প্রশ্নগুলোর উত্তর দাও।
(ক) পরিমাপকৃত বাহুগুলাের দ্বারা ত্রিভুজ অংকন কর।
(খ) দেখাও যে, অংকনকৃত ত্রিভুজের কোণগুলোর মধ্যে বৃহত্তম বাহুর বিপরীত কোণটি বৃহত্তম।
(গ) ক্রিভুজটির কোণ তিনটিকে কেটে আলাদা করে এক বিন্দুতে স্থাপন করে দেখাও যে, তিনটি কোণ একত্রে এক সরলকোণ তৈরি করে।
প্রশ্ন: ০২ তোমার ৩০ জন সহপাঠীর উচ্চতা (আসন্ন সেন্টিমিটারের মানে) সংগ্রহ কর এবং তা তােমার খাতায় লিপিবদ্ধ কর।
(ক) উপাত্তগুলোকে মানের ক্রমানুসারে সাজাও।
(খ) সর্বোচ্চ সংখ্যক সহপাঠী কত উচ্চতা বিশিষ্ট তা আয়তলেখের সাহায্যে নির্ণয় কর।
মূল্যায়ন নির্দেশক:
১। তথ্য ও উপাত্তের সাহায্যে ত্রিভুজ অংকন করতে পারা এবং ত্রিভুজের বাহু ও কোণের মধ্যে সম্পর্ক স্থাপন করতে পারা।
২। আয়তলেখ তৈরি করে তা ব্যাখ্যা করতে পারা।
সক্ষিপ্ত প্রশ্ন: বীজগণিতীয় সূত্রাবলী প্রয়ােগ করতে পারা।
So, I hope you guys will be happy to get the questions on the above section. Now you will be very curious to get the right answer. So, let's scroll down below and download the solution for All Education Board.
1st Week Class 7 Math Assignment Answer
We know that the Class 7 Assignment already started from 1st week of November according to the Routine. Bangladesh Secondary and Higher Secondary Education Board authority is the main organizer of this system. However, our team member and also our brothers solved the question. And I have already uploaded the solution for you.
First of all, if you have the ability to answer of Class Seven Math Assignment, so do not need to download the solution. Because all the answers also available in your textbook. But if you do not have enough time to solve the question, so we are always active here to help you. That's why here I have uploaded the solution. So download Class 7 Assignment Answer from here.
Answer Coming Soon! Please wait
In Conclusion:
Well, that's was all about Class 7 Math Assignment Answer 2021 for Bangladesh Education Board. By the way, I will try to add other Assignment Question Solutions for you. So now, you can download the above solution. Thank you very much for visiting our website.