Revised: According to the National University notice, NU Honours 1st Year Special Exam Routine 2021 has been published for Improve Exam. So, this is breaking news for those students who are waiting for the National University Honours 1st Year Improve Exam. In fact, we also going to share the official exam schedule through our website AllResultNet.Com.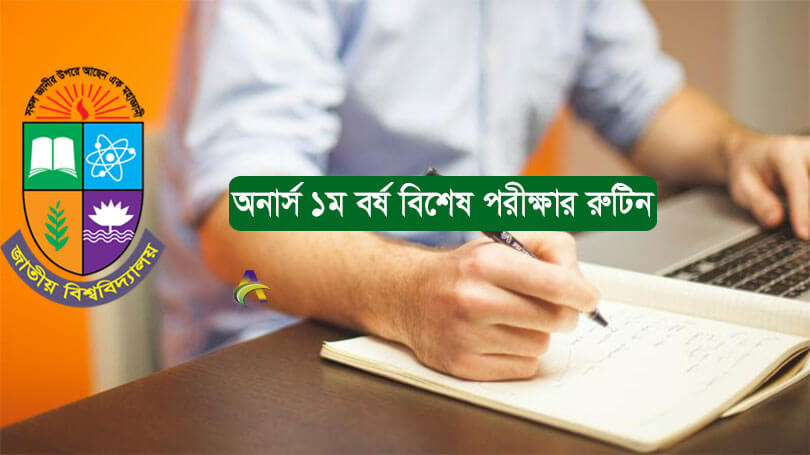 If anyone searching on the internet to get Honours 1st Year Special Routine 2021 (Special Exam), then we suggest you download it from the official website nu ac bd of Bangladesh National University. We also uploaded the same routine on our website. Anyone can download Honours Improve Exam Routine 2021 directly from here.
Honours 1st Year Special Exam Routine 2021
A few days ago, we got some messages from National University's students regarding Honors First-Year Special Exam. Unfortunately, we failed to provide them the exact news. Because the authority didn't declare any news at that time.
Later, National University Authority has been declared the exam date and time for the Honours 1st Year Improve Exam. The declaration date was 25 February 2021.
On that day, we also shared the official news through our website. Now, everyone can get it easily from here. There is no need to visit the official website whether you can get it from this article.
NU Honours 1st Year Improve Exam Routine 2021
As you guys already noticed we shared that, the official website has been declared the exam routine from National University's 1st Year Students. The exam will be held on 07 June 2021. You can also get the exam date summary below.
Name of the Exam: Honours 1st Year Improve Exam
Exam Type: Special/Improve Exam
Start Date: 07 June 2021

End Date: 14 June 2021
So, you will be understood the Honours 1st Year Improve Exam 2021 start date from the above topic. Now we would suggest you take final preparation for the exam. Before that, Download Honours 1st Year Special Exam Routine 2021 from here.
You can find the canceled exam routine from below.
Well, did you downloaded the routine from the above download link? If your answer is Yes, then there is no need to worry! Unfortunately, if you face any problem to download it, so please write a complain through the comment box that available below.
Remember, we have collected the above exam routine from the official website of National University. If you found any issue on it, so we are not responsible for any issue.
Final Words:
This is all about Honours 1st Year Special Exam Routine 2021, Official Date and Time. We hope you will be happy to collect it from our website. In addition, we also included a few important things for the Honours Improve Exam.
If you liked this article, so please never forget to share it with your friends. You can also share it on the various Facebook groups of the National University. Thank you very much for being with All Result Net.Com.