HSC Result will be published very shortly. Every student can check HSC Result 2022 By Android App. This is a smart way to check HSC Result 2022 by the Android app.
HSC Exam Results 2022 will be published very soon. You can easily able to check your result from the official website or also from our website after the result publishing time. Every exam candidate of HSC (Higher Secondary Certificate) can get their result using many ways. Such as HSC Result 2022 by Online/Internet, Result by Mobile SMS, Result by Android App.
In our previous article, we have described how to get HSC Exam Result 2022 online/internet and get HSC Result 2022 by SMS. But we do not publish any formula/process to get Higher Secondary Certificate (HSC) result by android app. So in this article, we want to discuss this. Read the full article below to Check HSC Result 2022 By Android App.
How To Check HSC Result 2022 By Android App
We hope, In this time maximum number of Higher Secondary Certificate students use the Android smartphone for many reasons. Because Android smartphone price now becomes very cheap. So this reason maximum students are using android phones.
The android phones give us an awesome feature. This is the exam result. such as JSC/JDC, HSC/Dakhil, HSC/Alim, and many other education boards result. Do you about this? If you do not know about this, so don't worry!!. You can learn it from our website.
Check Result By Android
This article helps you to check your HSC Examination result. At first, you have to need to download and install the Android app on your phone. You can get this app in apk format on the "Google Play Store". This app name is "BD Results (Official Apps)". It's made by the governing authority of the Bangladesh education board.
Firstly download the official app from "Google Play store" to get your HSC Result 2022 BD by the android app. So download the BD Result official android app from below
Click here to download
Download and install the app on your android smartphone. Then "Enable" the mobile data connection. Then open the app from your mobile phone's app gallery. After opening this app, you can get a window like below
Then you can get a new window. Firstly you have the need to select your Examination name. Like JSC,HSC,HSC and others. Then choose the Education Board Name. Such as Dhaka Board, Rajshahi Board, or Dinajpur Board. Now select the Exam year. This is 2022.
Then input your six-digit HSC Exam Roll number. finally, click on the "Submit" option. Then you can get your most wanted and most curious HSC Result.
See the full process below
Select Examination Name. (Ex: HSC/Alim for HSC Result)
Chose education board. (Ex: Dinajpur Board)
Select Examination yeas. (It's 2022)
Type your HSC Roll Number. (Six digit)
Finally click on "Submit" button
After some moments you can get your result.
Recommended: HSC Result 2022 By SMS
See details in the picture below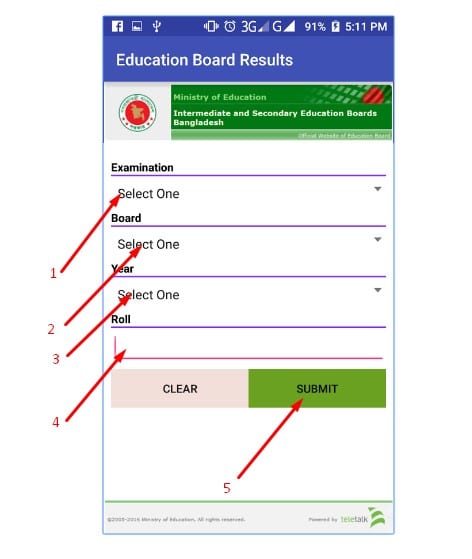 Conclusion:
This is our article about "How To Check HSC Result 2022 By Android App". We hope you guys successfully understood and gain our article and got your result using the android app. If you like this article, so never forget to share this. Thank you so much for being with us.