HSC Result 2021: Finally, HSC Exam Result 2021 for All Education Board has been published officially. Students and their parents can collect the results easily through the Mobile SMS Method.
All Board HSC Result has been published through the official website. Now, students can easily able to collect the result from the official website. But, most of the time students will be failed due to web server errors. In the meantime, the HSC Result Mobile SMS method is only the fastest and most workable way for everyone.
HSC Result 2021 All Board
As per the official news, the Bangladesh Education Board authority succeed to published HSC Result 2021 All Board on 13 February 2022. Earlier, the Education Minister was declared the date on 08 February 2022. As a result, every student can check the result using their roll number.
Students can collect their results from the official website and also from Mobile SMS, said Education Minister. The Mobile SMS method worked for 10 years for Education Board. In fact, this is the best way to collect JSC, SSC, HSC, Honours, Degree, and Masters Exam Results as well.
As a result, students can check HSC Result 2021 By SMS through their phones. For this, they need to send the right SMS to the right number. You will learn this from here.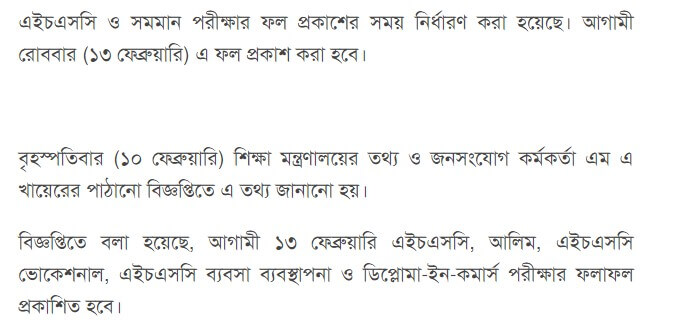 Update News: এইচ.এস.সি ও সমমানের ফলাফল ১৩ ফেব্রুয়ারি প্রকাশিত হবে। খুব সহজে এবং সবার আগে ফলাফল দেখতে চাইলে এই পোষ্ট টি ফেসবুকে শেয়ার করে রাখুন। তাহলে ফলাফল প্রকাশের দিন কাজে আসবে। ধন্যবাদ।
HSC Result 2021: How to check by sms
As we might know, the SMS app is the by default app which is installed on every Android, iPhone, or Simple Phone. Besides this, Bangladeshi Mobile Operator companies allow their users to collect exam results, submit application fees, and more.
To check the result by SMS, you will need to recharge your account and need to open the SMS app from your phone. After that, follow the instructions mentioned below;
HSC <Space> 1st three letters of Education Board Name <Space> HSC Roll Number <Space> Exam Year
Example: HSC CHI 3666465 2021

Send the SMS to 16222
Here, HSC is the exam name, "CHI" is the 1st three letters of Chittagong Education Board, 3666465 is the example roll number and 2021 is the exam year. Finally, send the SMS to Teletalk Official Number 16222.
Once you send the SMS, Teletalk will provide your result very soon. If you send the SMS through Teletalk SIM, then it will take a very short time than other SIM.
All Board Keyword for SMS
Dhaka Education Board: HSC DHA 77899 2021
Barisal Education Board: HSC BAR 7574444 2021
Chittagong Education Board: HSC CHI 545415 2021
Rajshahi Education Board: HSC RAJ 56451 2021
Dinajpur Education Board: HSC DIN 065414 2021
Jessore Education Board: HSC JES 545301 2021
Comilla Education Board: HSC COM 542745 2021
Sylhet Education Board: HSC SYL 32403 2021
Madrasha Education Board: JDC MAD 565254 2021
In Conclusion:
Well, we had shared HSC Result 2021 Bangladesh Education Board. We also described how to collect the result easily. We hope you guys succeed to get your result after reading this article.
If you liked this article, so never forget to share it with your friends. Thank you very much for being with AllResultNet.Com. You may also like our official Facebook Page to get regular updates. Good Luck!