If you want to play a quiz and earn money, then Bkash Quiz 2020 System will be on your favorite list. Because they announced that, they will pay 200tk if anyone wins after playing their quiz. But participants need to follow their rules that I have already mentioned here with everyday quiz results.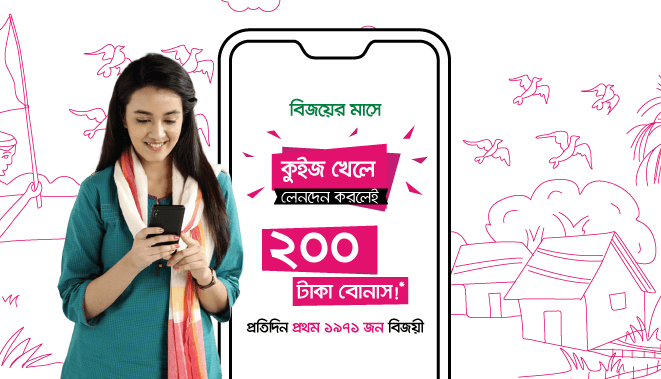 In addition, the quiz program was started on 1st December 2020 officially on their official website. However, today I am going to share the known and unknown facts about this quiz program. I have also described Priyo Com Quiz Rules in my previous article. You may also check it by clicking the link. Then read more about the quiz and also download the quiz result.
Bkash Quiz 2020
On 2nd December 2020, My friend Samiul Islam (Also writer of AllResultNet.Com) told me that, he will be participating in a quiz program. I asked him "Which type of quiz program is it?". "The quiz program is organized by Bkash" (Mobile Banking Service in Bangladesh), he replied.
After that, I asked him about the prize. Then he described it. Every 1981 people will get 200tk prize per day as a winner. And he also added a few things. Then I also trying to find out his prize. Later, I researched about it and found that this is really amazing quiz for Bangladeshi people. Because they can easily get a 200tk bonus from Bkash by answering three questions from the allotted time.
Now, I am going to share all the important information through this article about this quiz.
Prize or Bonus of Bkash Quiz for Bkash App User
As you guys already understood that, my friend told me about the prize of this quiz. Now, let me clarify it. The quiz will start everyday and it will ends on 31st December 2020. According to their notice, everyday 1971 people will get 200tk bonus in the campaign time. I think this is special event for Victory day of Bangladesh.
However, do you have any interest to participate in the quiz? If your answer is Yes, then you can easily able to participate there. But before this, you have to know the rules that are workable for the quiz. And all the rules are copied from Bkash's official website. So, let's read the quiz rules.
Rules To Play Bkash App Quiz
Every Bkash User need to know the rules. Otherwise they can't participate on it. And they will be lost the bonus. So, if you want to play the quiz, so I would like to tell you, please follow the rules from below.
Campaign will ends on 31st December 2020
If anyone want to participate it, they need to have Bkash Account and the account should be activate.
Bkash Customars can enjoy the contest from 01st December to 31st December 2020 how many time they want to participate.
Every Active Bkash Account holder have the chance to win 200tk bonus.
In the campaign time, per day 1981 winners will be determined based on the fastest correct answer to a few questions.
Rules Part 2
To be selected as a winner, a bKash customer must make one of the following transactions from his bKash account on the day of his contest or any day prior to the contest between December, 2020:
Recharge from Bkash App
Cash Out or Send Money via Bkash App
Make Payment or Pay Bill through their official app.
Transfer money by their app.
A bKash customer will only be able to win a one-time prize during the campaign period.
If you want to be eligible for a prize, so your account needs to be fully active.
New Bkash Customers should be complete all the processes for the account creation.
Winners will get the prize within 2 working days after announcing the winner.
Bkash workers can't participate in the contest and can't get the prize.
Well, that's was all rules of Bkash Quiz Program. I hope you guys will be successfully understood it. Now you may follow the instruction to participate on the contest.
How to participate on Bkash Quiz Program?
After understanding all the information, you will be want to participate in this contest. Because this is an amazing quiz contest and there are 200tk for the award. Anyone can get the award by answering three questions.
However, do you want to participate on the campaign? Well, you should know the process. Otherwise you will be not able to participate and you will be not visible on 1971 winners list. Therefore, you can't get the award from Bkash Authority. So you should follow the instruction from below.
Play Bkash Quiz from Phone
First of all, every bkash customer (who is interested to participate) needs to visit the official webpage for the contest. The official link is https://bkash.com/quiz/public/. You can directly get the page by clicking the link.

After that, you will get a new page like the following picture. Then you need to write your "Bkash" account number in the first box.

Now tap on "নিয়ম ও শর্তাবলীতে আমার সম্মতি আছে" to agree with their rules of Bkash Authority. After that, click on "কুইজ খেলুন" option.
Finally, you will get a question after clicking there and it will be like the following picture.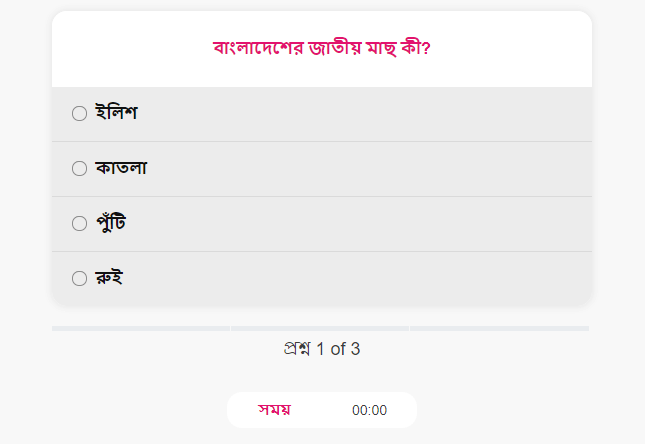 Well, this is an easy method for participating in the quiz competition. I hope you will be able to understand the above method. So try to play the quiz from your Phone or PC to get a 200tk bonus. I always recommend you to use your phone to participate in it.
In Conclusion:
Bkash is the top Mobile Banking System in Bangladesh. They arranged a competition that is really amazing for their customers. On the other hand, they launch it on our Victory Month. It is also a great thing for Bangladeshi People. However, play the bkash quiz 2020 and earn 200tk within a few seconds. I hope you guys will be like this article. If you do so, so please try to share this article with your friend circular. Wish you all the best for your quiz competition.