News Published on 27 October 2021: Bangladesh Public Service Commission BPSC Job Circular 2021 has been published Non-Cadre Job News for Bangladeshi People. Qualified candidates can apply on BPSC Circular 2021 directly from this website. You can also get too much information Like, the number of vacancies, the application process, the total fee for the application, the application start date, and other things that are very important for BPSC Circular 2021.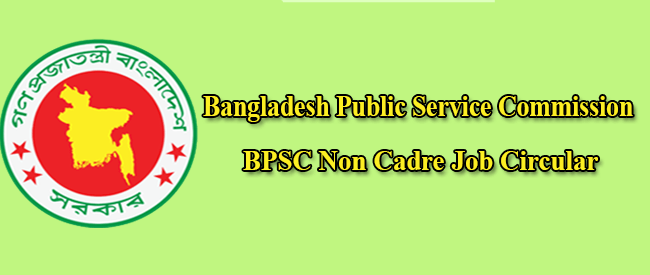 Are you searching for Non-Cadre BPSC Job Circular 2021? Bangladesh Public Service Commission (BPSC) has been published new notices through its official website. If you are very interested in BPSC Job, and you want to know about the recent circular, so this article is only for you.
BPSC Job Circular 2021 (New)
BPSC is the most popular Govt Job in Bangladesh. Every year the authority published their Job Circular for Bangladeshi People. And most of the candidates (who are very interested in this job) are waiting for a new circular. You may get the recently published BPSC Non-Cadre Circular from here.
Circular Published Date: 26 October 2021

Application Start Date: 28 October 2021

End Date: 25 November 2021

Application Process: Online
So you may understand that this year BPSC Authority has been published the circular on 23 February 2021. Every interested candidate needs to submit their application before the end date. You can download BPSC Circular 2021 from here.
1. Job Circular No: 01 Vacancy: 226
2. Job Circular No: 02 Vacancy: 3244 
Total Vacancy: 3470  (More or Less)
BPSC Non-Cadre Job (55-79) Circular 2021
Full Circular PDF File (Official)
Full Circular of BPSC Non-Cadre Job (55-79) PDF
Circular Number 02: BPSC Non-Cadre Job (80-147) Combined Circular 2021 PDF
Full Circular PDF of BPSC Non-Cadre Job (80-147) Combined
Non-Cadre BPSC Job Circular Details
Well, here I have also shared most of the important information about the job circular. According to the circular, the online application has been started. And the online application will end on 09 January 2021. You may also get more ideas from the table below.
So, I hope you guys will be got a full idea about this job circular. However, if you need more information, so you may download the official circular.
BPSC Cadre Job Application Date
Submit the Job Application within the exact date, this is a really painful fact. In addition, the application start date and time is the most important thing for everyone. Now it is time to share date and time.
Name of the Job: BPSC
Job Type: Government
Circular Published Date: 23 February 2021
Application Start Date: 28 February 2021
End Date: 31 March 2021
Application Process: Online
This year, BPSC Job Online Application will start on 04 March 2021 officially. Every qualified and interested candidate can submit their application online. But they need to pay the application fee via Mobile SMS. The application will end according to the official BPSC Job Circular 2021. If you want to get this job, so you have to apply within the last date.
Download BPSC Job Circular 2021 PDF:
Well, I have shared some of the main information of this circular in the previous section. But some of the necessary information also has on the circular. That's why I have already uploaded the official circular on our website. So if you want to know detailed information about this circular, so you have to download the BPSC Job Circular 2021 PDF or Image.
42 BCS Circular 2021
43 BCS Circular
সরাসরি আদেন করতে এখানে ক্লিক করুন: 43 BCS Circular
How To Submit BPSC Job Application?
Now, do you want to submit your application? If your answer is yes, then you may follow the application process. This is a very critical section of every Govt Job Circular. Because the maximum number of interested candidates do not know the actual process. This reason here I am going to share the full guideline to submit the application correctly.
As I already mentioned, candidates need to submit the application online. This is also a very good side of this circular. Because you do not need to submit an application via Post Office. Before move further, you have to learn the process.
BPSC Job Apply Online:
Online is the most popular way to apply for any Job, Submit Admission Form and Check the result. But you can submit the application online for that Job Circular that requires an online application. So BPSC Job Circular 2021 is also good for submitting the application. Because they require an online application.
So, you can easily able to submit your application from the official website of BPSC. You can also do it on our website. Because we have included the official server on our website. Just input your information in the following box and submit your application.
Apply the following process in the above box:
First of all, select the position according to your qualification.
Input your Educational Qualification
Upload Color Photo (300 x 300 pixel) and Signature (300 x 80)
Input applicant mobile number
Re-Check all the information carefully
Click on "Submit" option
Finally "Print" the application copy
Application Fee Payment Process
After submitting the application, you will get an application USER ID. Then you have to pay the application fee using the ID. After that, you can get "User ID and Password". Here is the application fee payment process. Go to mobile message option and type following keywords
1st SMS: BCS <Space> User ID
Example: BCS JHSBSHS send to 16222
After sending the SMS, you will get a confirmation SMS from the official number. Then you have to send the 2nd message.
2nd SMS: BCS <Space> YES <Space> PIN
Example: BCS YES 12425471 sends to 16222
In Conclusion:
So, that's was all about BPSC Job Circular 2021 and Application Process for Bangladeshi people who are looking for Government Job Circular. Here I have shared this Job Salary, Application Process and Application Fee Payment Process.
I hope you guys successfully understood about BPSC Job Circular. Further, if you have any questions, so feel free to ask me in the comment box below. Thank you very much for visiting our website.