This is breaking news for those students who are applied for Rajshahi University Admission for the session 2020-2021. According to the official website, Ru Admission Selection Result 2021 published officially. It will show you who is on RU Admission Eligible List. So, you may sure that, this is a very important thing for those people who want to study at Rajshahi University.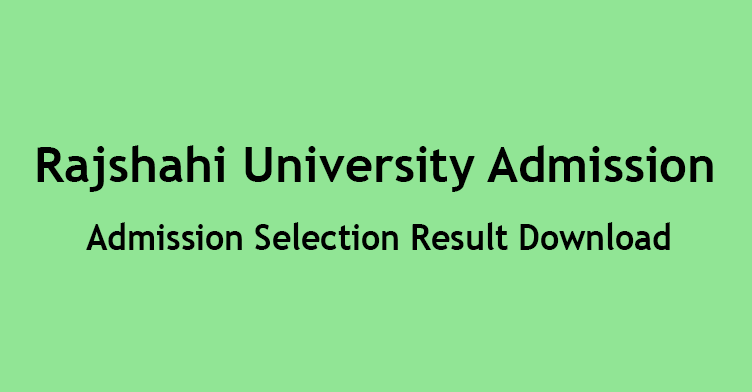 If anyone needs to download RU Admission Selection Result 2021, so they can easily get it from this (AllResultNet.Com) website. We are going to share the official Eligible List that is required for the final application.
Rajshahi University RU Admission Selection Result 2021 (Session 2020-21)
You might know that, there are 3 units in Rajshahi University while application time. According to their rules, the maximum 45,000 students will get the opportunity to study at this university. So, 45,000 students will be selected for these units. You will be happy to know that, the final selection will be generate based on HSC or Equivalent Exam Result.
| | |
| --- | --- |
| Selection Result Publish Date: | 22 March 2021 |
| Final Application Start Date: | 23 March 2021 |
| Application End Date: | 31 March 2021 |
| Application Process: | Online |
| Application Submission Link: | admission.ru.ac.bd |
So, you may understand that, if anyone selected on the primary selection then they need to submit their final application. The final application will be starting on 23 March and it will ends on 31 March 2021 as per the official news.
Before this, every candidate needs to download the selection list to know they are on the list or not. Hence, they need to download this list from the official website of Rajshahi University. But we also uploaded it to our website and candidates can download it through this article.
RU Primary Selection Result 2021
Most of the students know that, Rajshahi University Authority trying to publish any important notice through their official website. In the selection result time, they also published it here. In addition, all the candidates can download it from our website as well.
Our team members already collected the result sheet from the official website and also shared it from here. It will help the candidates to save their valuable time. So, we always prefer to visit our website for any Educational News or Job News. However, let's check Rajshahi University Primary Selection – RU Admission Selection Result 2021 from here.
So this is the official selection notice that was published by the official website of Rajshahi University. The final application will be starting and ends in three phases. You can also get more information from below.
The Final Application Date Time for RU Admission
1st phrase application date: 23 to 27 March 2021
2nd phrase application date: 27 to 29 March 2021
3rd phrase application date: 29 to 31 March 2021
About Rajshahi University
The University of Rajshahi, also known as Rajshahi University or RU (Bengali: রাজশাহী বিশ্ববিদ্যালয়. The university's 60 departments are organized into ten faculties. Rajshahi University is in a 305-hectare (753-acre) campus in Motihar, 3 kilometers (2 mi) from the Rajshahi city center. It is the second-largest, in terms of academic activities and the second oldest university in Bangladesh.
Currently is the best research university in Bangladesh. Researchers of this university recently put significant effort and played a key role in bringing back Bangladeshi Muslin fiber.
History
The first proposal to establish a university came in 1917 when Calcutta University created the Sadler Commission to assess the university system in Bengal. However, the recommendations of the report had no immediate consequences.
The University of Dhaka, established in 1921. Demand for a university in the northern part of East Bengal gained momentum when two universities were set-up quickly in West Pakistan, using funding diverted from East Bengal, without the establishment of any in the east. Students of Rajshahi College were at the forefront of the movement demanding a new university.
Finally, Rajshahi was selected as the home for the second university in East Bengal and the Rajshahi University Act of 1953 (East Bengal Act XV of 1953) was passed by the East Pakistan Provincial Assembly on 31 March 1953. Itrat Hossain Zuberi, the principal of Rajshahi College was appointed its first vice-chancellor.
Initially, the university was housed in temporary locations, such as the local Circuit House and Boro Kuthi, an 18th-century Dutch establishment. B B Hindu Academy, a local school, housed the library, teachers' lounge and the medical centre. The university started out with 20 professors, 161 students (of which 5 were female) and six departments—Bengali, English, History, Law, Philosophy and Economics. In 1964, the offices moved to the permanent campus.
Conclusion
We hope you guys will be satisfied after reading this article. Because that's was all about RU Admission Selection Result 2021 for the session 2020-21. If you need any help, so please write the question through the comment box.
If you liked this article, so never forget to share it with your friends. Thank you very much for being with AllResultNet.Com. You may also like our official Facebook Page to get regular updates. Good Luck!