Ramadan Calendar 2023 Iftar, Sehri Time Today 2nd April: The Holly Ramadan Calendar for Muslim Religious People of Bangladesh is published by Bangladesh Islamic Foundation. The First Day of the Holy Month falls on March 24, 2023. The important fact is; the first day of Ramadan is on Friday.
Ramadan 2023 Bangladesh, India, USA, UK
Among the five pillars of Islam, fasting in the month of Ramadan is the third pillar of Islam. Fasting is obligatory in the month of Shaban of the second Hijri. The first ten days of Ramadan are the beginning of fasting Mercy, the middle ten days of forgiveness and the end 10 days is salvation. Muslims worship more during this month. Because The reward of worship in this month is many times more than in other months is increased.
On the night of this month called Lailatul Qadr, The Qur'an was revealed that night The Qur'an says better than a thousand months. Worshiping at night is better than worshiping for a thousand months more rewards are available.
| | |
| --- | --- |
| Romjan Start Date | March 24, 2023 |
| Day | Friday |
| Roja End Date | April 23, 2023 |
| Day | Sunday |
Ramadan Iftar, Sehri Time Today 2nd April
Sheri Time: 4:28 AM
Iftar Time: 6:19 PM
Ramadan Calendar 2023 for Bangladesh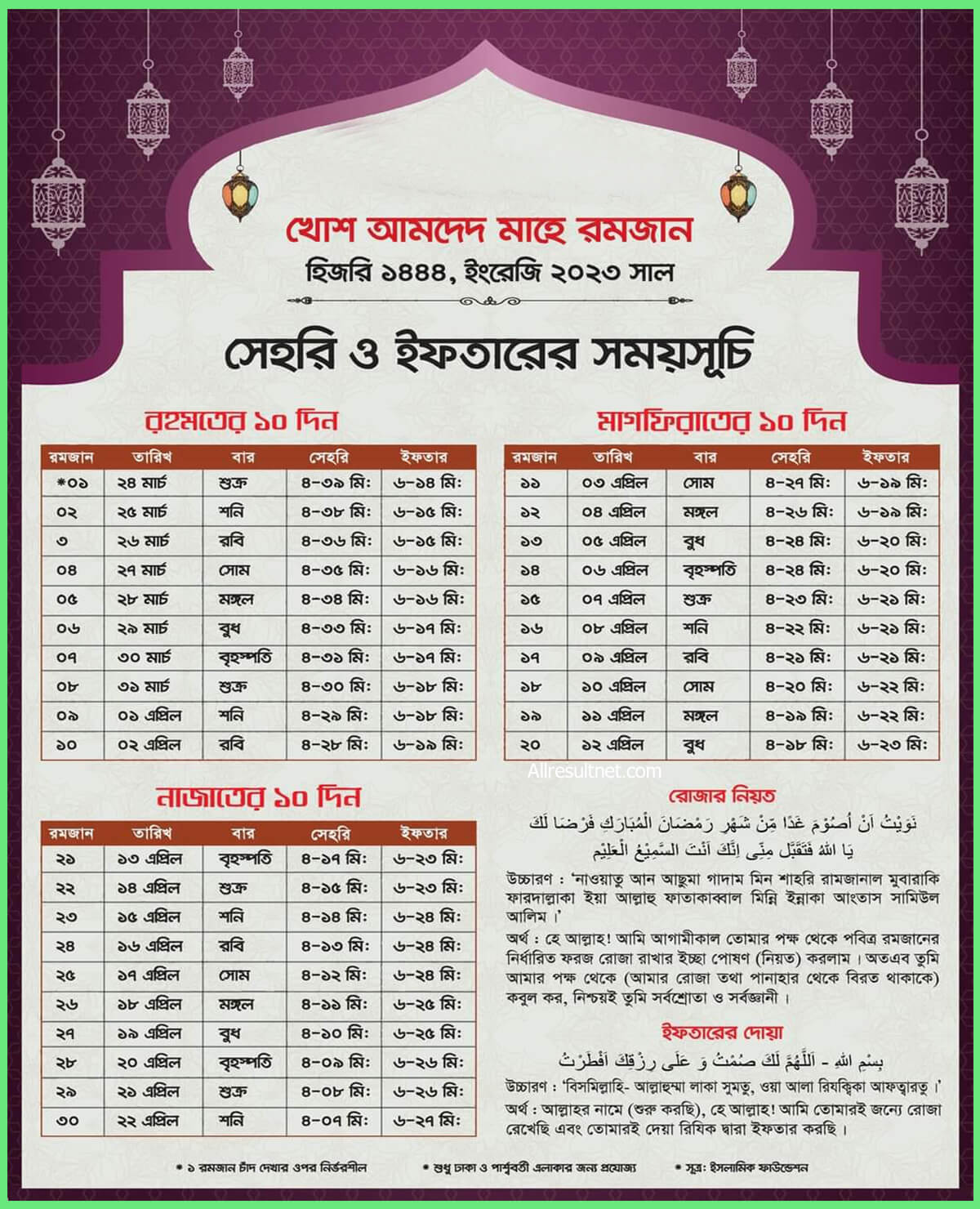 Ramadan Calendar 2023 Iftar, Sehri Time Today 27 March
Here's another one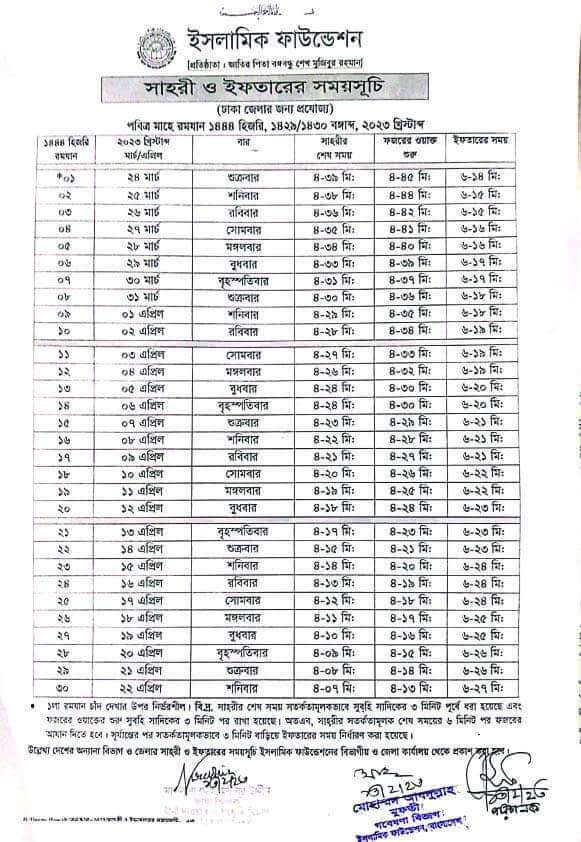 Ramadan Calendar 2023: Overview
As per the Published Ramadan Calendar 2023, the first day of the Holy Month falls on March 24, 2023. Bangladesh Islamic Foundation has published the official timetable for Sehri and Iftar for Dhaka, Barisal, Chittagong, Rangpur, and other divisions. As per this, Roja 2023 will end on April 23, 2023.
| | |
| --- | --- |
| Category of the Article | Festival News |
| Name of the Event | Ramadan |
| Known As | Romjan Mas, Rojar Mas, Ramadan |
| Romjan Start Date | March 24, 2023 |
| Day | Friday |
| Roja End Date | April 23, 2023 |
| Day | Sunday |
Islamic Foundation Published Romjan Month Calendar
The Government Organization of Bangladesh, Islamic Foundation has published Ramadan Calendar 2023 officially. According to this, the first-day fasting has been confirmed for March 24 which will continue till April 23, 2023. Everyone should be aware that, the Sehri, Iftar, and Prayer Time are simply different for every District in Bangladesh due to the Time Zone.
We have already discussed that Ramadan is the most important month of the Islamic calendar. Ramadan will start and it will end according to the above date and time. But it is simply different in India and Bangladesh.
Rojar Calendar 2023
The ninth of the Arabic months is the holy month of Ramadan. The word Roza is Persian. … Its Arabic term is fasting, plural called fasting. We are saying from the Arabic word that fasting means fasting. The word fasting comes from fasting which means abstaining.
They will enjoy a feast of food in the evening time. Every year, Muslim religious peoples observe the Ramadan festival. The date of Ramadan is also very important. Because Ramadan is divided into three types. You may download Ramzan সাহরী ও ইফতারের সময়সূচি for Dhaka District from here.
Download Ramadan Calendar 2023 PDF
As per our research, more than 100 people searched on the internet to download Ramadan Calendar. If you are also one of them, so we have the official pdf file for you. In this case, anyone can download the full calendar with a pdf file that is available below. So, download Ramadan Calendar 2023 from here.
Sehri with the same time of Dhaka: Narayanganj, Munshiganj, Tangail, Chandpur.
Iftar with the same time of Dhaka: Gazipur, Netrokona, Pirajpur and Madaripur.
All District Sehri and Iftar Time
We have shared Dhaka District (Sheri with Dhaka: Narayanganj, Munsiganj, Tangail, Chandpur) Iftar and Sheri 2023 Full-Time Table in the above image. But you may also know that; the time is also different in other Districts in Bangladesh.
For Ramadan Updates, Please Follow us on Google News (Tap on the Star icon to Follow)
Now you may download the official Calendar below for your own District.
According to the above calendar, Ramadan will start on 25 April in Bangladesh. The Ramadan calendar is approved by the Islamic Foundation of Bangladesh. And the very fast Ramadan/Roza starts with taking Sehri at 4:05 am.
Also Download: Ramadan Mubarak Images
Few Rules During the Month
Some rules need to be followed during Ramadan. They are:
During the month of Ramadan, Muslims let go of worldly pleasures and fast with their family and friends.
Five daily prayers are observed every day from dawn tonight.
Fasting is obligatory for adult Muslims, except those who are chronically ill, pregnant, breastfeeding, menstruating, or diabetic.
Muslims refrain from consuming food, or liquid, smoking, and being intimate with their spouses during Ramadan.
They also do not indulge in any kind of false speech, insulting, cursing, lying, or fighting, which may negate the reward of fasting.
Zakat or charity is obligatory in Islam. During Ramadan, the poor are helped. Zakat is a fixed percentage of the person's savings that is donated. Sadaqah is a voluntary charity in giving above and beyond what is required from the obligation of zakat.
About the Holly Month
Ramadan word comes from the Arabic root Ramida. Which tells us about scorching heat or dryness. Ramadan is also known as Ramadhan or Ramzan. The month is one of the biggest festivals of the Muslim religion.
We hope all Muslim Religion people know about this. Ramadan is the ninth (9th) month of the Islamic calendar. It is observed by Muslims Religion people worldwide. The month of fasting (Sawm) commemorates the 1st revelation of the Quran to Muhammad. It is the most important month of the Islamic Calendar for Muslims.
FAQs for Roja Calendar 2023
Q1: When will Ramadan start in Bangladesh?
Ans: According to the official news, Ramadan Month will start on March 24, 2023.
Q2: When Roja 2023 will end?
Ans: As per the Ramadan Calendar 2023, fasting will end on April 23 which is just one day before Eid-al-Fitr.
Q3: What is Romjan 2023 Sehri time today in Bangladesh?
Ans: Every country has its own Time Zone. That's why Today's Sehri Time is different than Saudi Arabia and other Muslim countries. We have already shared today's Sehri time through this article.
Q4: 2023 Sal E Roja Kobe Suru Hobe?
Ans: As per Islamic Foundation Ramadan Calendar 2023, Roja 24 March Suru Hobe.
Q5: Rojar Calendar 2023 Kothay Pabo?
Ans: Anyone can download the calendar from the official website.
Rojar 2023
During the month of Ramadan, many people sit together and break their fast. It is customary to start iftar by eating dates. However, in many places, iftar begins with drinking water, while in some places it is customary to start iftar with wet rice.
Iftar is a time full of great virtues. There should be no delay. Because it has been narrated in the hadith that a person who observes fasting should break his fast with dates, if he does not get dates, he should break his fast with water because water is purer.
Making Iftar to others is a great reward. At least one person should try to break the fast every day. Because the person who breaks the fast will get the same amount of thawab and the thawab of both of them will not be deducted in the slightest.