The Hajj 2023 Registration for Bangladeshis will start on February 8. On the day, both public and private registration going to start for the year 2023. The Online Application will end after 15 days, on February 23, 2023.
Bangladesh Ministry of Religious Affairs issued a Notification on Sunday (February 5) regarding Hajj Registration 2023. As per the notice, a total of 42 thousand and 293 Bangladeshi People can apply for pre-registration in government management. On the other hand, it will be 7 Lakh 8 Thousand, and 364 people can register under Private Management.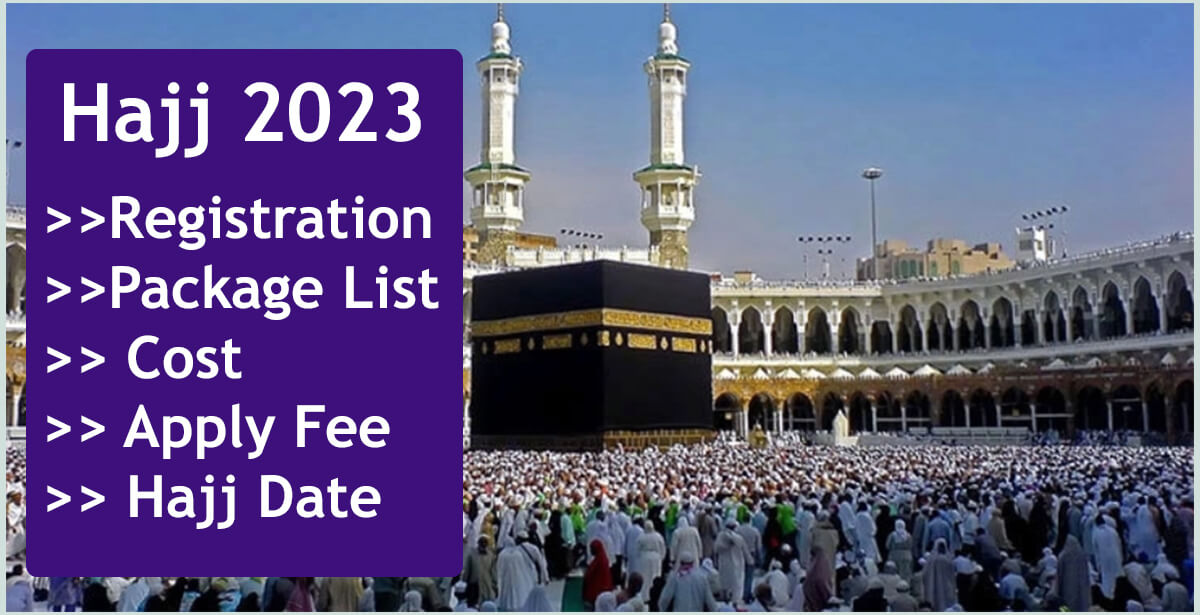 Hajj 2023 for Bangladeshi
A pilgrimage to Saudi Arabia for Hajj is one of the five important religious obligations of Muslim Religion believers. Every year, the Hajj Pilgrimage takes place during a certain period. Bangladesh Ministry of Religious Affairs said on the Hajj 2023 Registration Notice that, the Holly Hajj will be held on June 27, 2023.
According to the Hajj agreement with Saudia Arabia, this year 1 lakh 27 thousand and 198 people from Bangladesh can perform Hajj. It is also said that 15 thousand of people will get a chance to perform Hajj 2023 under Government Management. Besides, the rest 1 lakh 12 thousand 198 people will have the opportunity through Private Management.
Hajj Registration 2023: Overview
A large number of Muslim Devotees from Bangladesh are eagerly waiting for the Hajj Registration 2023. Those, who want to go for the Hajj Pilgrimage, need to know detailed information which is included in the table below.
| | |
| --- | --- |
| Category of the Article | Hajj 2023 News |
| Name of the Event | Holly Hajj |
| Organizer | Ministry of Religious Affairs, Bangladesh |
| Application Method | Online |
| Primary Application Start Date | February 8, 2023 |
| End Date | February 23, 2023 |
| Total Devotees Allowed | 1 Lakh 27 Thousand and 198 |
Also Read: Ramadan Calendar 2023
Hajj 2023 Package: Fee for Govt and Private
Interested people who want to go for the Hajj Pilgrimage, need to know the Package for the Year 2023. Bangladesh Government announced that Hajj 2023 rules have been kept under Government Management. A total of 15 thousand people will have the opportunity, said the authority.
For those people who are waiting for Govt Management Hajj Package, they will have to pay 6 Lakh 83 Thousand and, 18 Taka. Meanwhile, the minimum cost has been fixed at 6 Lakh 72 thousand and 618 Taka through Private Agency.
As per the report, Govt and Non-Govt Hajj Pilgrims must need to carry approximately 1 thousand Saudi Riyals. The Riyals will be needed for sacrifice, said the Ministry of Religious Affairs.
Hajj 2023: Know Who will be Eligible
The officials of the Ministry of Religious Affairs declared the Eligibility Criteria for Bangladeshi people. Only those people will apply for Hajj Registration 2023 if their passport is valid till December 31, 2023. In addition, a few rules have been mentioned in the notification. Interested people can scroll down the page to know Hajj 2023 Eligibility Criteria.
Need a passport that is valid till December 31.
If the cost of Hajj increases, it will be considered as a package price. The pilgrim will have to pay the cost.
For Govt Management Pilgrims, the passport will have to submit to Hajj Office in Dhaka within 3 days to get the Visa.
Need to Pay 30 Thousand Taka for Pre-Pregistration. Of this, 1 Thousand Taka will be charged for Processing Fee.
The Pilgrim needs to pay the rest amount via Sonali Bank, Motijheel Branch.
Note that, the Ministry of Religious Affairs said that, Pilgrims will not carry Perishable food items, Tobacco, or related Narcotics during the Hajj Pilgrimage. Medicines and medical supplies that need to be consumed regularly need to carry including the doctor's prescription.
For Hajj Updates, Please Follow us on Google News (Tap on the Star icon to Follow)