DUCMC Result 2022 has been released today, 26 December 2022. Dhaka University Faculty of Medicine authority confirmed that BDS All Year February 2022 and May 2022 Exam Results has released online. Candidates who take the part in the mentioned exams can view the result through the official website.
A notice in this regard has officially published on Monday, on the DUCMC's website.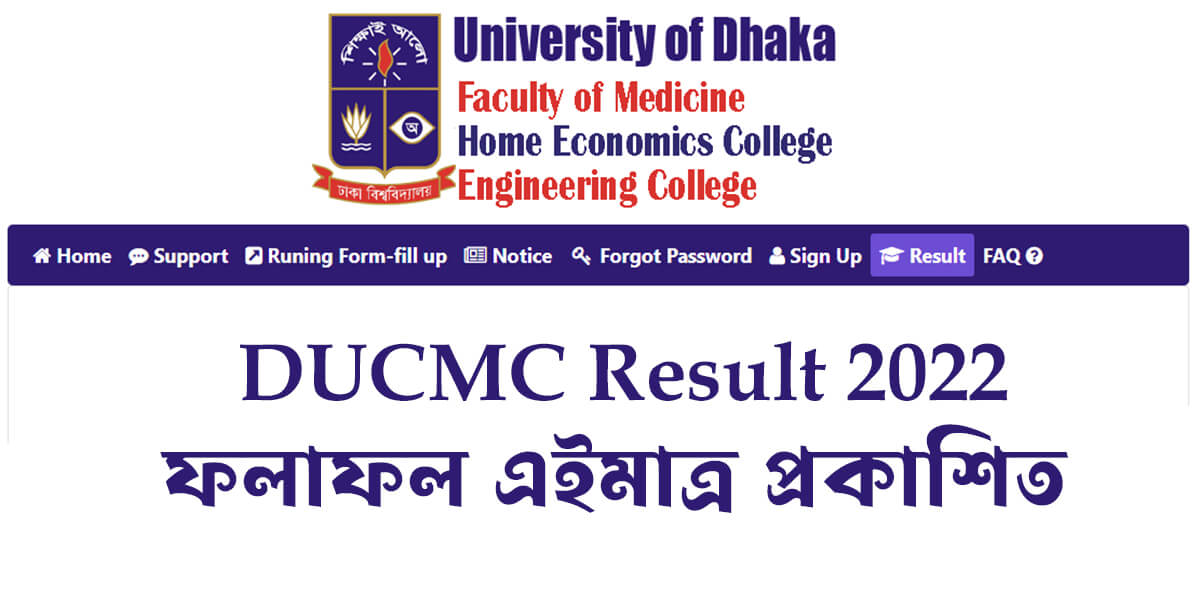 DUCMC Result 2022
The BDS Exam under Dhaka University Faculty of Medicine has been conducted on 15 September 2022 for the 1st to 3rd and Final Year. Before that, the university announced the form fill-up date for the BDS Professional 1st, 2nd, and 3rd Year on 2 August for the Exam May-2022.
In addition, the 1st, 2nd, 3rd, and Final Year Form Fill Up Date started on 3 August for February 2022 Exam. Those students who appeared in the exam will be happy to know that the DUCMC Result has been published on 26 December.
Update News: বিডিএস সকল বর্ষ ফেব্রুয়ারি-২০২২ এবং মে-২০২২ পরীক্ষার ফলাফল প্রকাশ
BDS 1st, 2nd, 3rd, Final Year Result Published by DUCMC
Dhaka University Faculty of Medicine (DUCMC) updated the notice Board under BDS Menu. As per the report, the authority declared the Exam Result for the BDS Professional 1st, 2nd, 3rd, and Final Year Exam. Authority invites the students to check it by login in using the credentials.
Steps To Get DUCMC Result 2022
Currently, the maximum number of students who sat in the BDS Exam this year, looking for the exam result. If you are also one of them, you will need to check it.
Also Read: Noorani Board Ctg Result 2022
Generally, DUCMC Exam Result is published on the official website. Interested students need to visit there and submit the credential to view.
Students may follow the instructions given below in order to check BDS Exam Result.
Step 1: Visit the official website https://ducmc.com/
Step 2: Tap on the "Result" menu from the main page.
Step 3: On the page, you will need to submit your Registration Number and more info.
Step 4: Type "Registration No." into the first box.
Step 5: Select the Program Name "BDS"
Step 6: Choose the session.
Step 7: Select the exam name.
Step 8: Click on the "Submit" button. Then, DUCMC Result will be displayed on the screen.
Step 9: Lastly, save the result page or take a screenshot for further reference.
Well, here we have shared the best method for BDS Exam Results under Dhaka University Faculty of Medicine. Students will be easily able to view their own or their friend's results using the above method.
We hope this article helped those students who are eagerly waiting for the BDS Professional Exam Result after completing the exam.