A few days ago, more than 50 students message us to our Facebook Page about Class 7 Bangla Assignment 2021. So we are going to release Class 7 Bangla Assignment Answer 2021 for 1st Week for All Education Board through this article. We hope this article will be one of the helpful articles among the Class Seven All Assignment.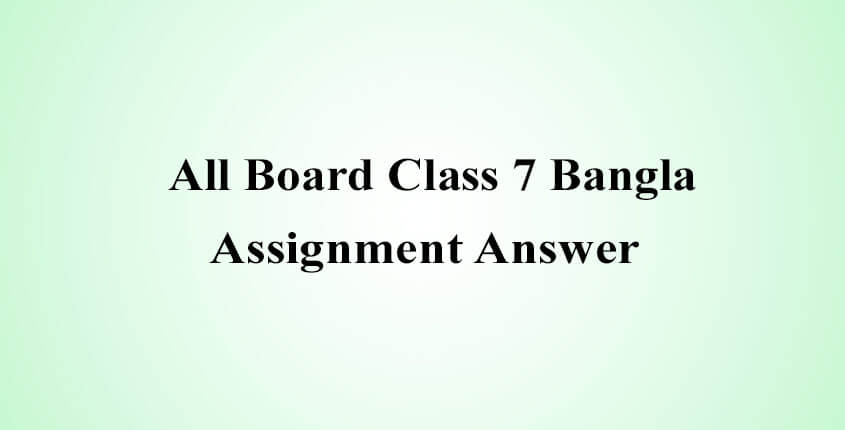 If you want to get Class 7 Bangla Assignment Answer 2021 for 1st, 2nd, 3rd, 4th, and more weeks, then we would like to tell you, this (AllResultNet.Com) website is the best guide for you. Because we have an expert team and they are working on assignment solutions. In fact, today we are going to share the Class 7 Assignment answer for Bangla Subject.
Class 7 Bangla Assignment 2021: Question for 1st Week
According to the Secondary Education Board authority, the assignment will be taken from the class 6 to 10. The authority will release a new assignment question every week. And all the students need to solve them within the deadline. This is really harder for most of the students.
But before the solve this, every student needs to know about Class 7 Bangla Assignment 2021 for the 1st Week. Do you already know this? If your reply is Yes, then you may jump to the next section to get the 100% correct solution. Additionally, we are also going to include the question or syllabus for 1st Week.
So, there is no need to worry about it! We already collected the official syllabus from the official website. Later, our team uploaded it into our website server. It can help everyone to download it without any trouble. Let's download the Class 7 Bangla Assignment from here.
এ্যাসাইনমেন্ট বা নির্ধারিত কাজের ক্রম
এ্যাসাইনমেন্ট বা নির্ধারিত কাজ-১
অধ্যায় ও অধ্যায়ের শিরোনাম: গদ্য
পাঠ্যসূচিতে অন্তর্ভুক্ত পাঠ নম্বর ও বিষয়বস্তু
কাবুলিওয়ালা: রবীন্দ্রনাথ ঠাকুর
এ্যাসাইনমেন্ট বা নির্ধারিত কাজ
যৌক্তিকতা নিরুপণ:
নিচে উল্লিখিত অংশটি সাধুরীতিতে রচিত।
উপযুক্ত কারণ দেখিয়ে তার যে․ক্তিকতা তুলে ধর। 'সংবাদ পাইলাম, কাবুলিওয়ালার সহিত মিনির এই যে দ্বিতীয় সাক্ষাৎ তাহা নহে, ইতোমধ্যে সে প্রায় প্রত্যহ আসিয়া পেস্তা বাদাম ঘুষ দিয়া মিনির ক্ষুদ্র হৃদয়টুকু অনেকটা অধিকার করিয়া লইয়াছে।'
নির্দেশনা
*শিক্ষার্থীরা বাংলা ব্যাকরণ ্ও নির্মিতি বইয়ের সহায়তা নিয়ে সাধুরীতির ৪-৫টি ক্সবশিষ্ট্য লিখবে।
*উল্লিখিত পাঠ থেকে সর্বনাম, ক্রিয়াপদ, অব্যয় ও তৎসম শব্দের দৃষ্টান্ত চিহ্নিত করবে।
*যে․ক্তিকতা সহ উপসংহার লিখবে।
So, we hope everyone will be happy to get the questions in the above section. Now you will be very curious to get the right answer. So, let's scroll down below and download the solution for All Education Board.
Class 7 Bangla Assignment Answer 2021
Well, we have shared the question in the above section. Now everyone will be looking for the solution. We also noticed that most of the educational websites have been published the solution. Unfortunately, 2 or 3 websites provided the original notice. And almost all other websites can't help you at the right time.
But Assignment Submission at the right time is the most important task for every student. Thankfully, AllResultNet.Com is here to provide you almost 100% accurate solution for All Education Board. Previously, we shared Class 8 Math Assignment Answer 2021 yesterday. You may also get this by clicking the link.
All Board Class Seven Bangla Assignment Solution Download
Assignment is running for All Education Board under Secondary Education Board Bangladesh. Maximum time students won't able to solve it due to the hard question. And most of the students looking for the solution.
Because the assignment question isn't easy. For this reason, most of the students worry to solve it. As a result, they failed to complete the task. They searching on the internet to get the solution at that time.
But don't worry! We have a few expert members who already solved the assignment. And every student can easily collect the assignment from Allresultnet. After that, they need to write their assignment like our solution. So you may download Class 8 Match Assignment Answer from here. Before that, you may also check the assignment question from below.
1st Week Class 7 Bangla Assignment Answer
We know that the Class 7 Assignment already started from the last week of March 2021 according to the Routine. Bangladesh Secondary and Higher Secondary Education Board authority is the main organizer of this system. However, our team members and also our brothers solved the question. And I have already uploaded the solution for you.
First of all, if you have the ability to answer of Class Seven Bangla Assignment, so do not need to download the solution. Because all the answers also available in your textbook. But if you do not have enough time to solve the question, so we are always active here to help you. That's why here I have uploaded the solution. So download Class 7 Assignment Answer from here.
Answer Coming Soon! Please wait
In Conclusion:
This is all about Class 7 Bangla Assignment Answer 2021 for Bangladesh Education Board. We hope everyone will be happy to get their solution from our website. Moreover, we will try to add other Assignment Question Solutions for you.
If you liked this article, so never forget to share it with your friends. Thank you very much for being with AllResultNet.Com. You may also like our official Facebook Page to get regular updates. Good Luck!